Your CV done right, right away!
The CV generator solution that will help you boost your IT career.
You're better than your CV. That's a common mistake.
There is no second chance to make a first impression. Your CV is a unique opportunity to present yourself at your best to stand out from the crowd.
Sprint CV is a new, innovative, platform that will help you describe all the details of your career and enable you to transform your data into amazing IT CVs, highlighting all your IT skills; all this will be done at the a push of a button.
Let your CV be as great as you are with Sprint CV.
Benefits for IT Consultants
Our online tool will help you generate an IT Curriculum Vitae specific to your needs. It will make the process of creating your IT CV a pleasant and time saving experience.
Efficiency
Create, generate and update your CV — all done in a Sprint.
Customization
Be professional and look professional with plenty of free CV templates to choose from.
Availability
Sprint CV is always within reach on your PC, phone, or tablet, making sure your IT CV will be ready with a push of a button.
Privacy
We take privacy very seriously. That's why all your information is kept private by default, and only you will have the power to share it.
How does it work?
Interactive wizard

Step by step user-friendly wizard, where you will import your existing CV and review all the details of your IT career.

Select template

Once you complete the wizard you can select from many different CV templates.

Generate CV

Generate and download your IT CV in an editable format (Microsoft Word .docx) on the desired template.

Share CV

Share your CV with whom you trust.

Update wizard

Keep your IT experience up-to-date and keep enjoying the benefits of automated CVs.
Automated highlight of your IT skills
IT skills are the new currency in the IT industry.
Sprint CV makes sure that your CV highlights all your IT skills.
Our engine enriches your CV with real-time analytics of all your IT skills in a fully automated way.
Every month, your CV will automatically reflect your IT skills evolution.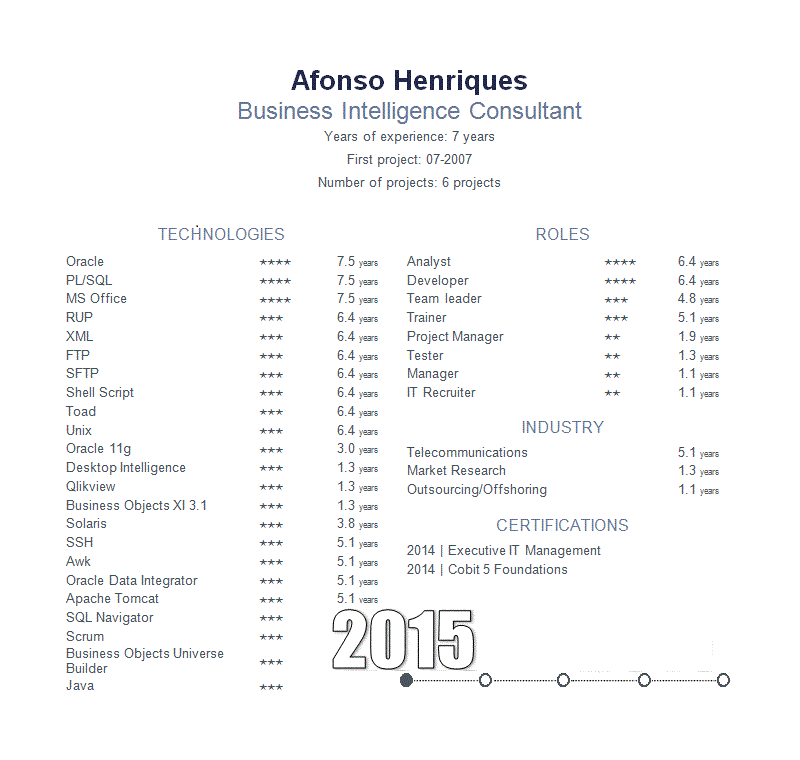 Let your CV be as great as you are!
Generate your CV (.docx) in a few seconds with one of our many free CV templates.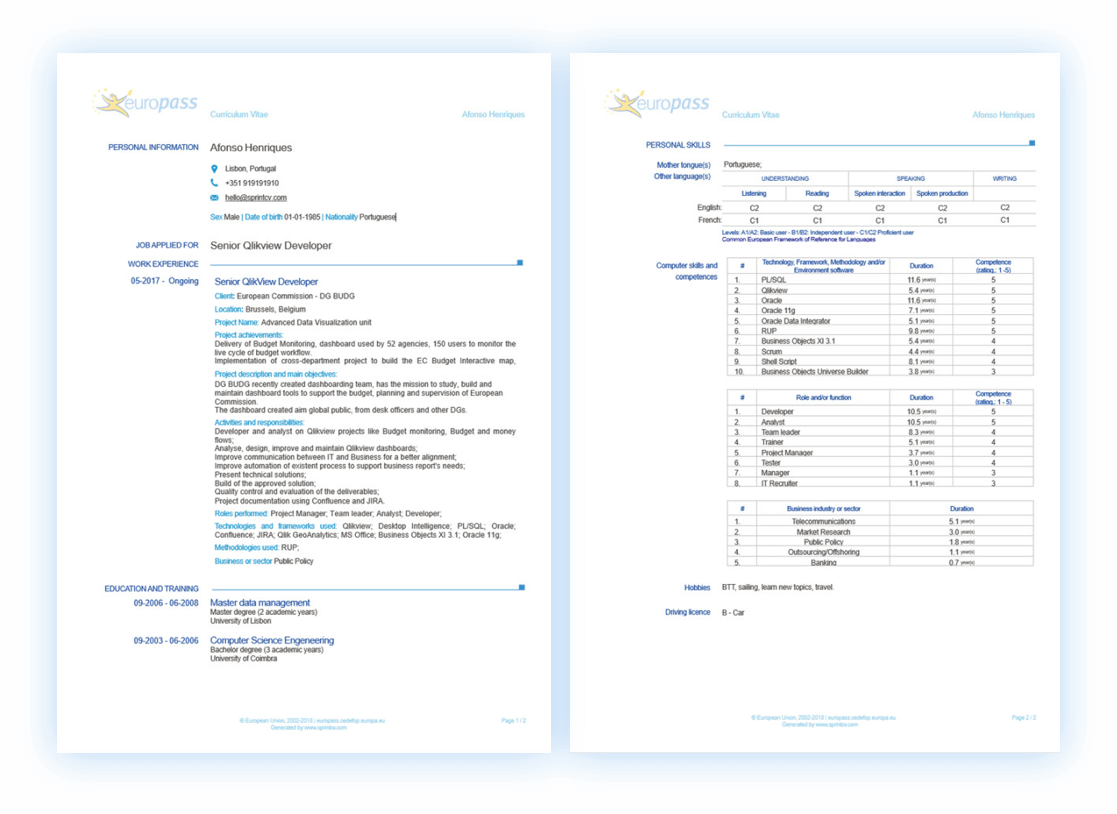 Europass remains the CV template most widely used in Europe. Generate an amazing Europass CV, tuned for the IT industry with a push of a button.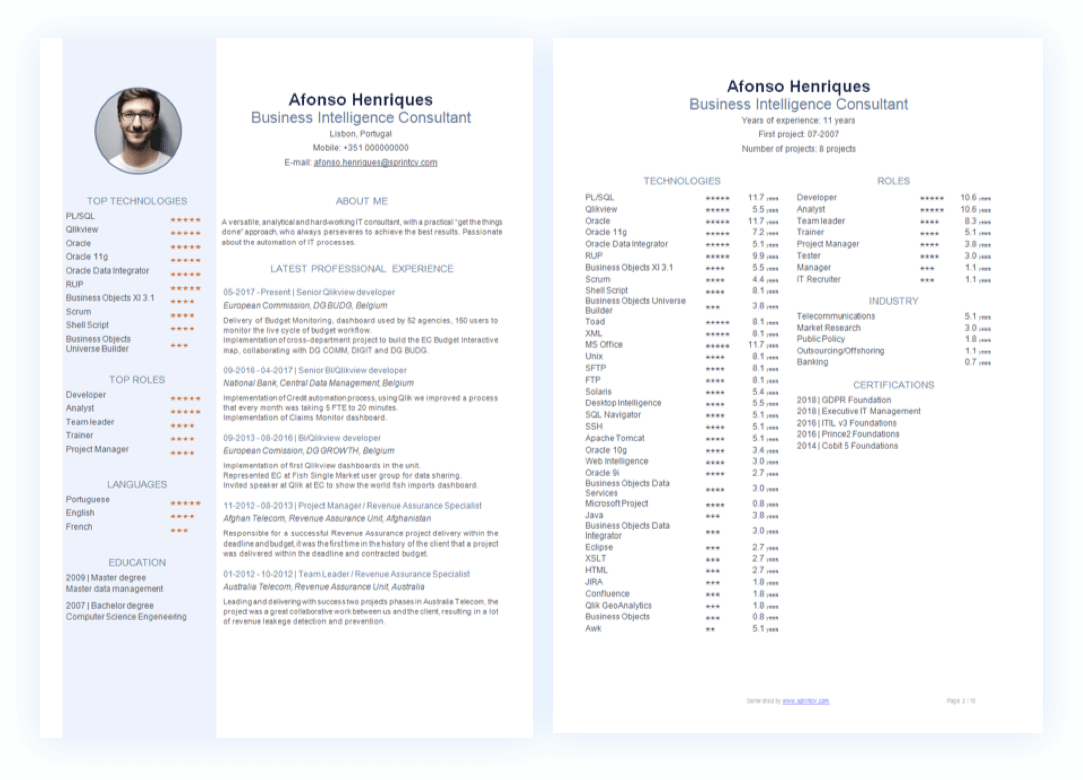 Sprint CV offers you our in-house CV template, which puts your IT skills in the spotlight.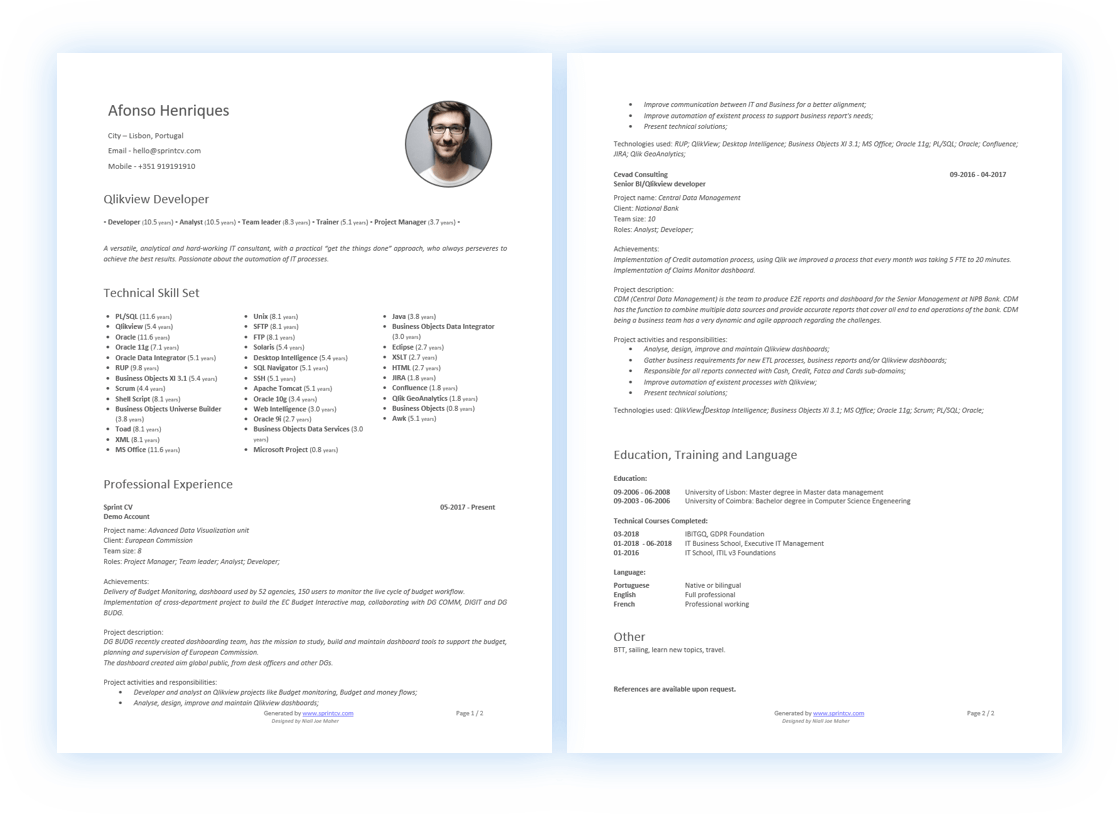 Developer CV proposed by our IT community and made available to everyone. Would you like to propose a CV template as well? Contact us.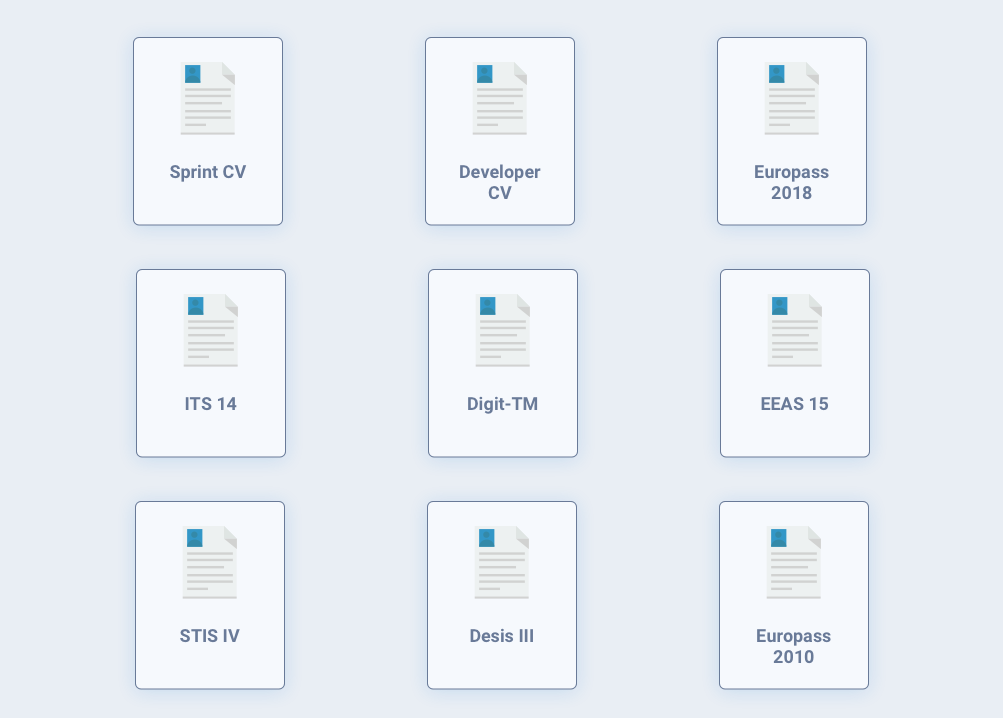 Many other CV templates used by public and private institutions, check here the full list.
Enable your online CV and share it with the world!
Enable the Web version of your CV with one click and make it available everywhere.
A real-time updated professional profile, highlighting all your IT skills.
Customised URL and optimised to be shared on social networks.
Fully customisable layout.
Always synchronized with your CV.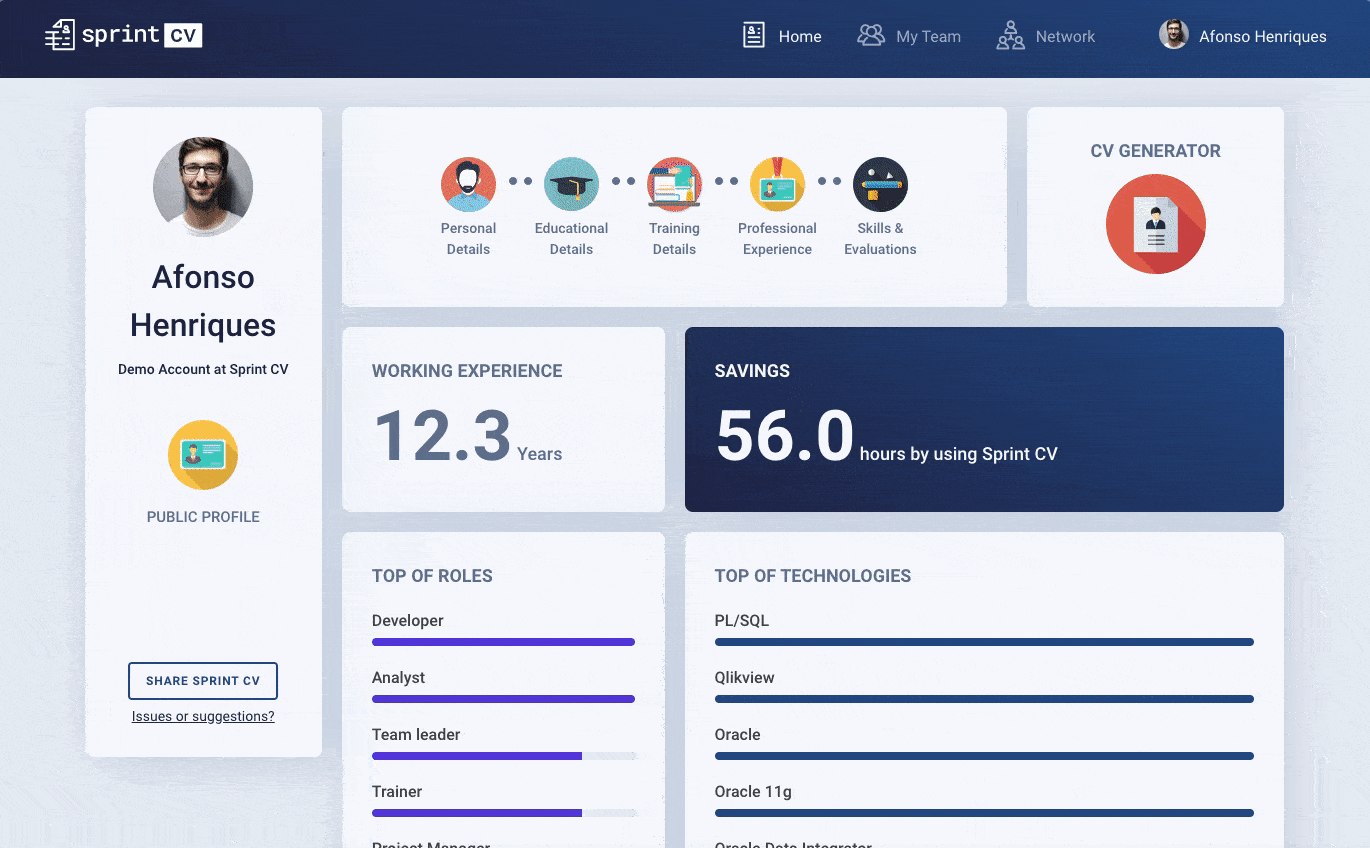 Connect and build a strong network
Connecting with the right persons is key to achieve success.
Key recruiters are searching for IT talented professionals like you.
Key recruiters are searching for IT talented professionals like you.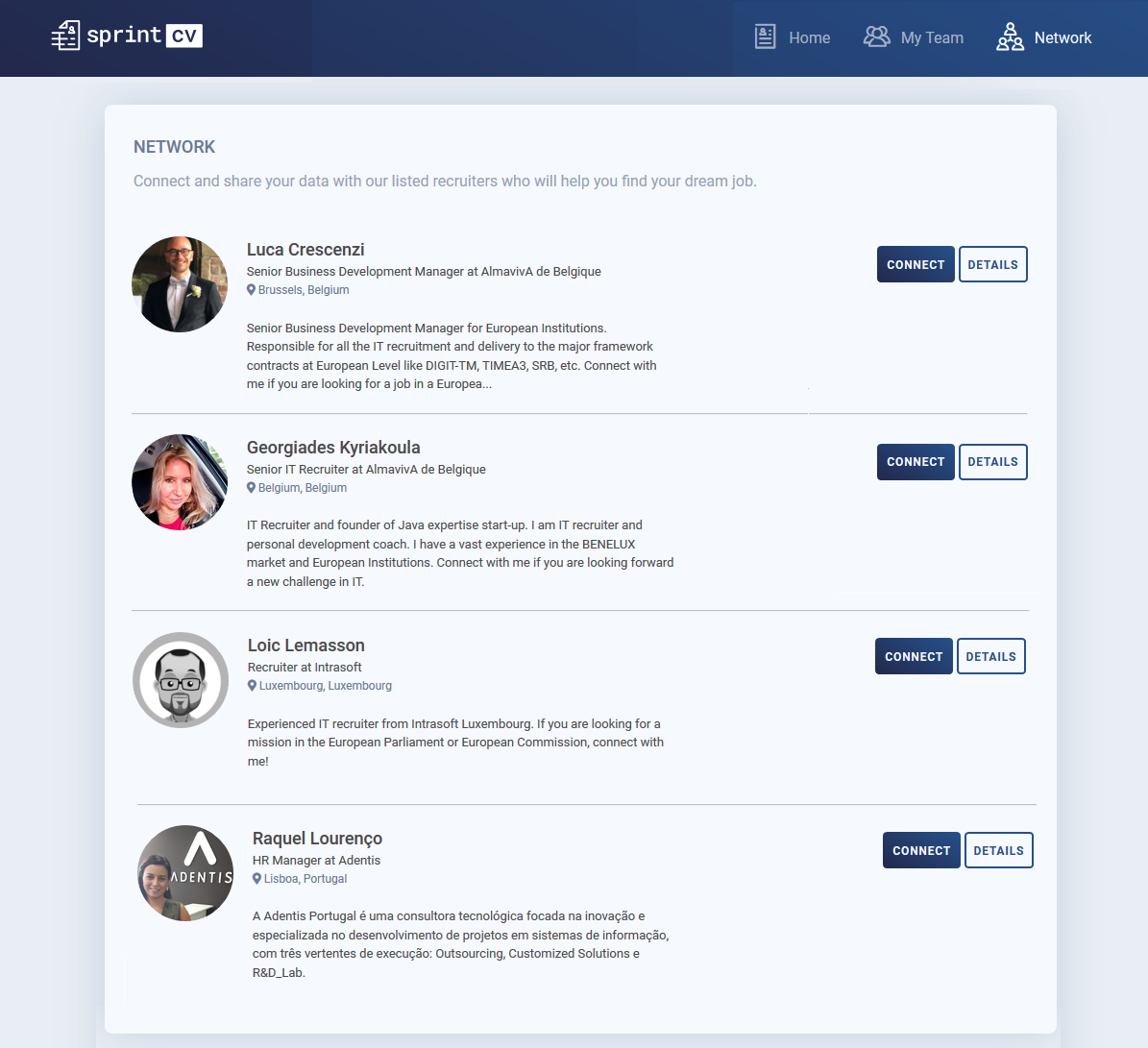 Free coaching and CV review
Our mission is to help IT consultants and our commitment is to help you. We will provide you free guidance:
If you need a second opinion on your CV.
If you need advice on how to get a better job.
If you search for connections to work in European Institutions.
Pricing
Are you an IT consultant? Sign up now and benefit from our launch offer with all premium features for free.
You are the master of your data
At Sprint CV we take GDPR very seriously and we have a big commitment to the protection of your data.
Ownership
Your data is yours and belongs to you.
Privacy
By default, all your data is fully private and no-one can access it.
Transparency
Your consent is requested for every data sharing and you will always remain in control.
Screenshots - Consultant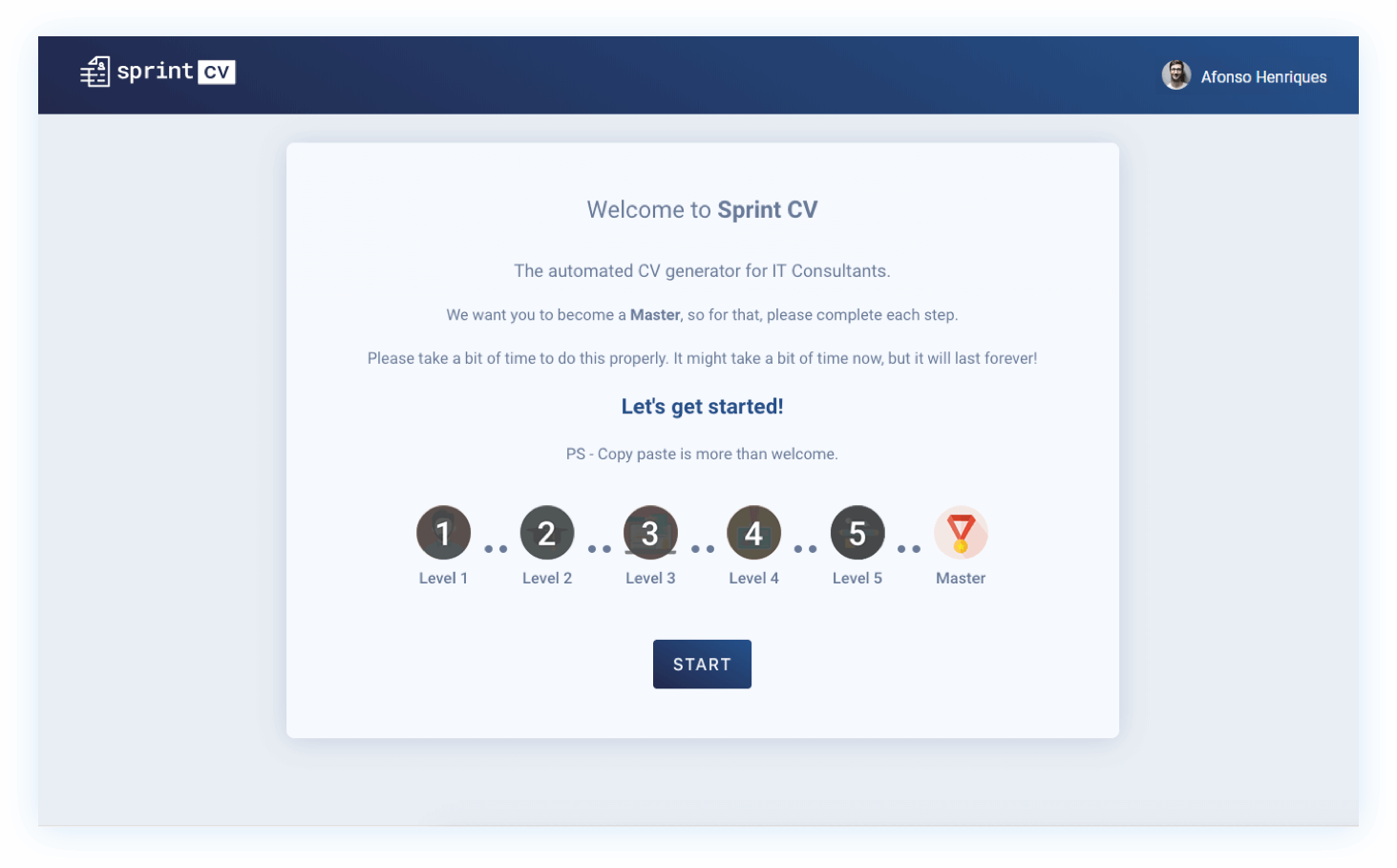 Interactive wizard
Step by step user-friendly wizard, where the IT Consultant will be guided through all details of their IT professional career.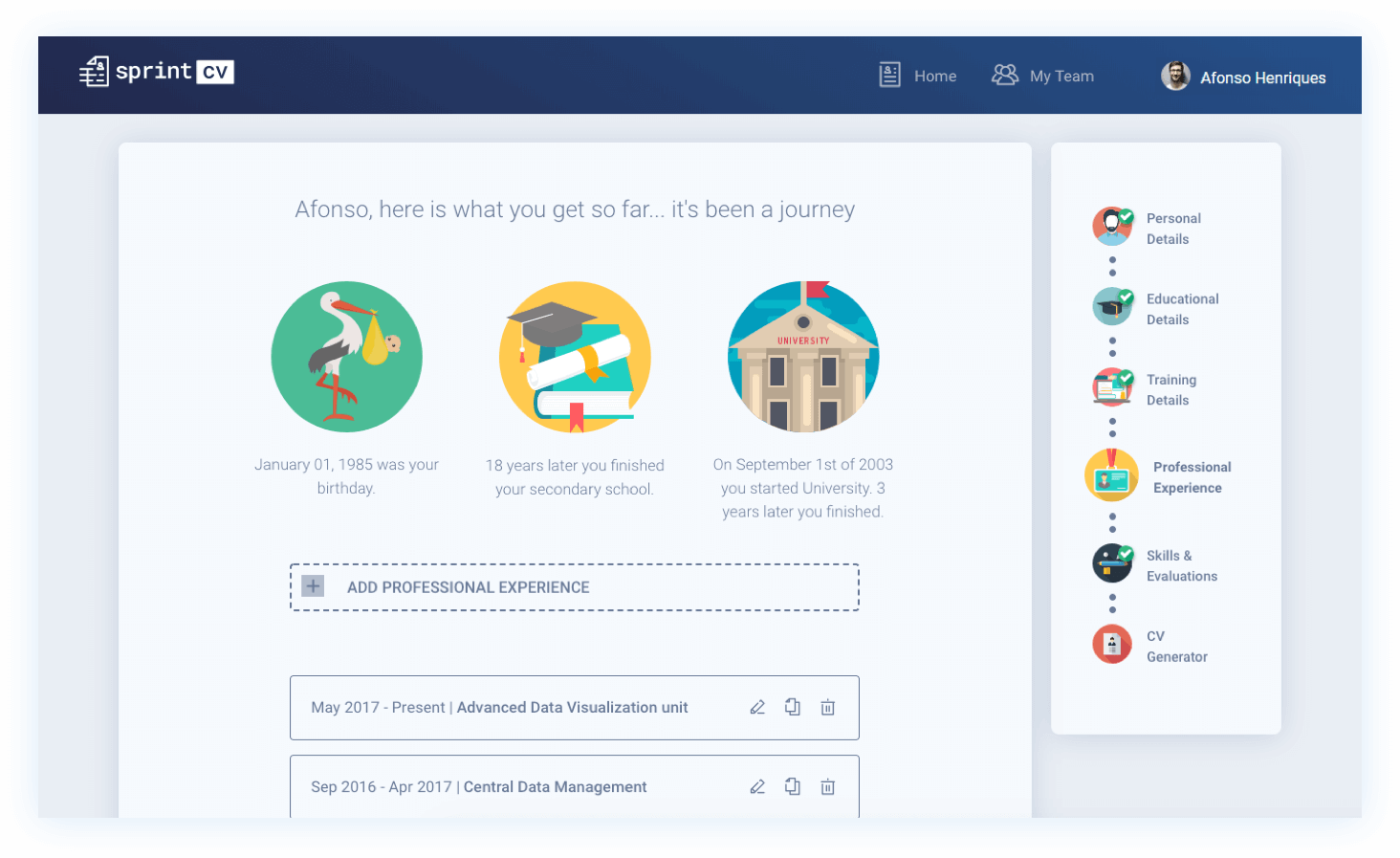 Professional experience
The IT consultant will insert all their professional experience, project by project, detailing every step that will be used to enhance his CV.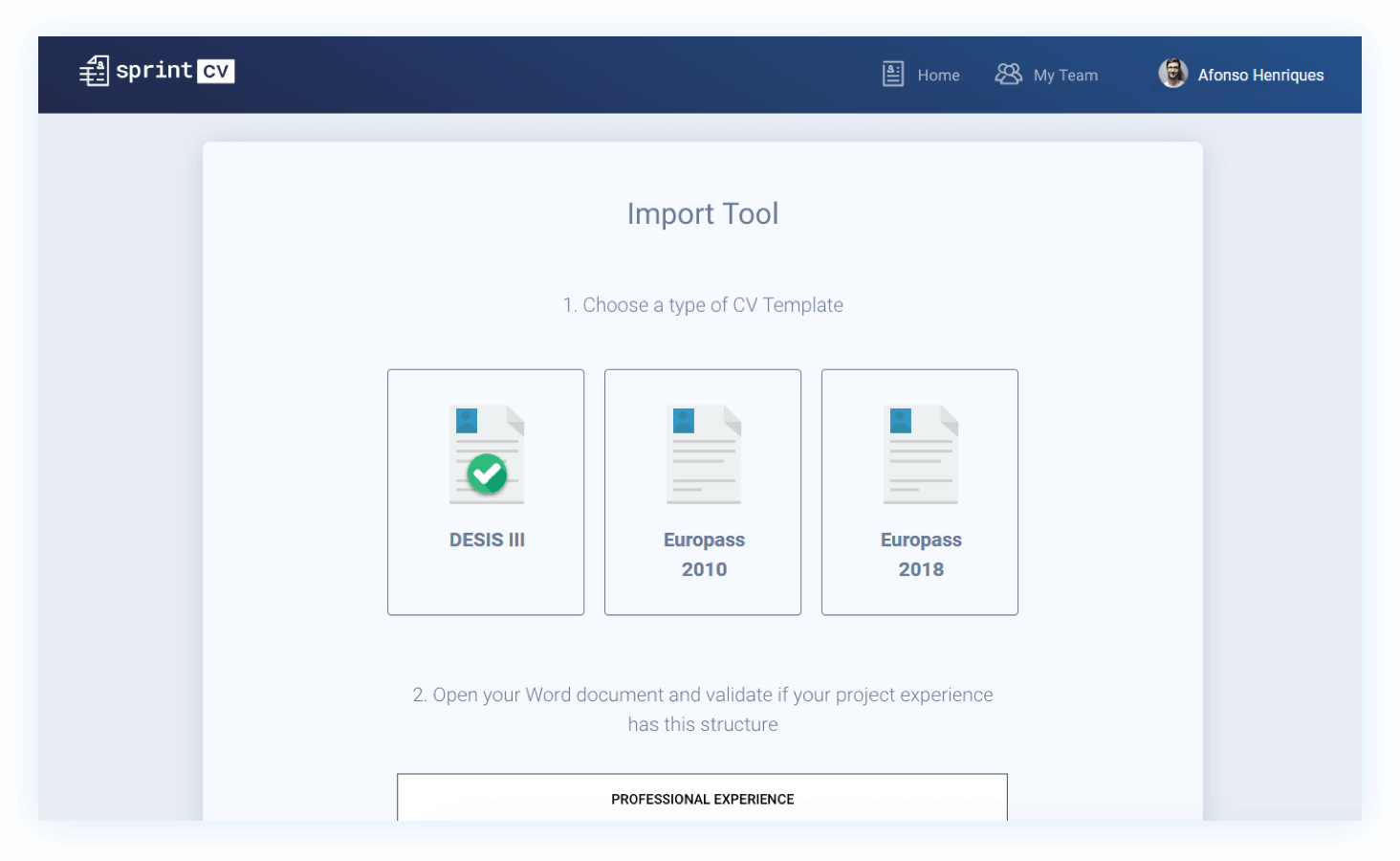 Import Tool
Because time is precious, instead of inserting everything manually, the IT consultant will have the option to import all their projects from an existing CV (word document).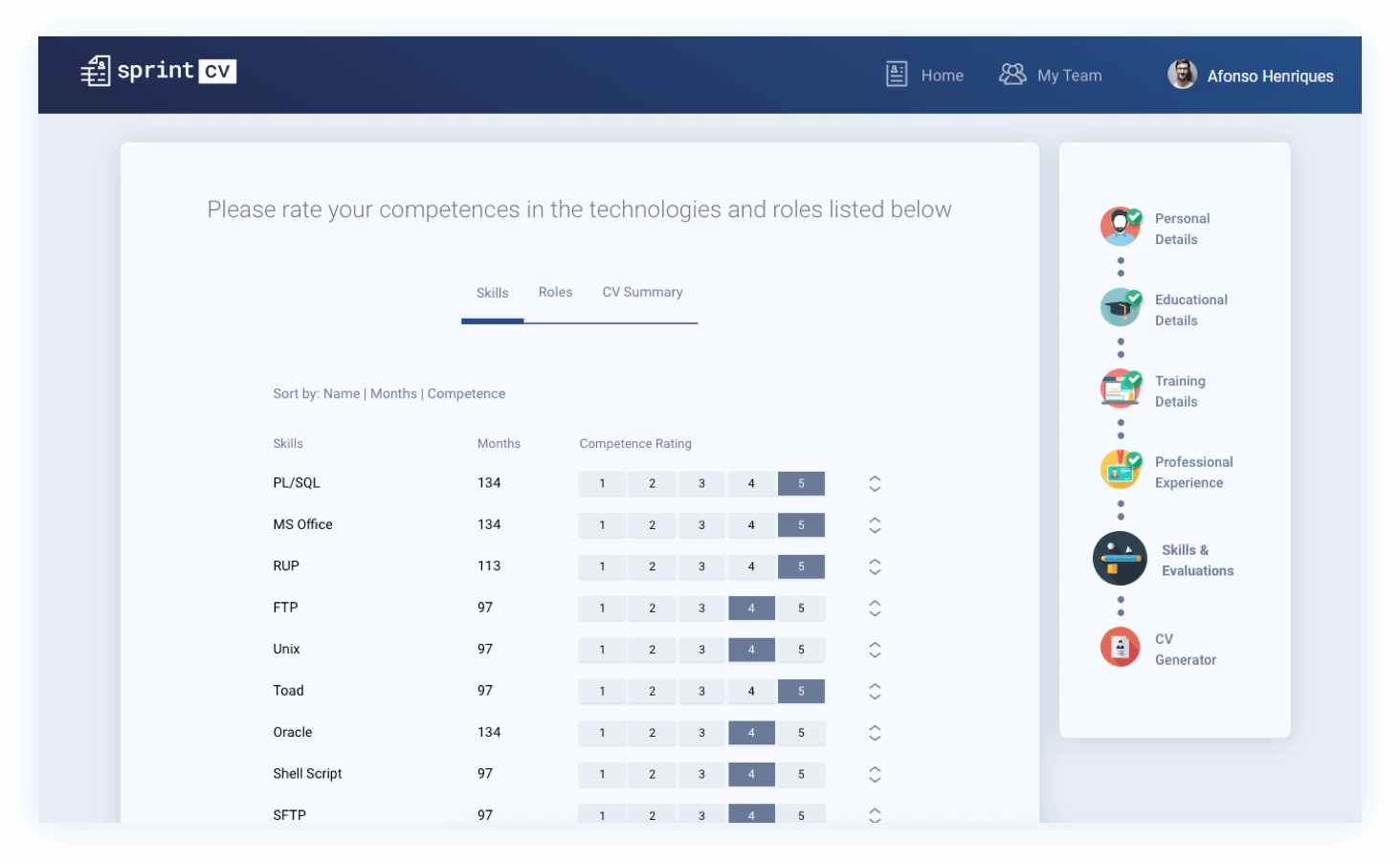 Skills and evaluation
In the final step of the wizard the consultant will be asked how competent they feel on each skill and role. Finally, they will have to write about themselves based on some specific questions.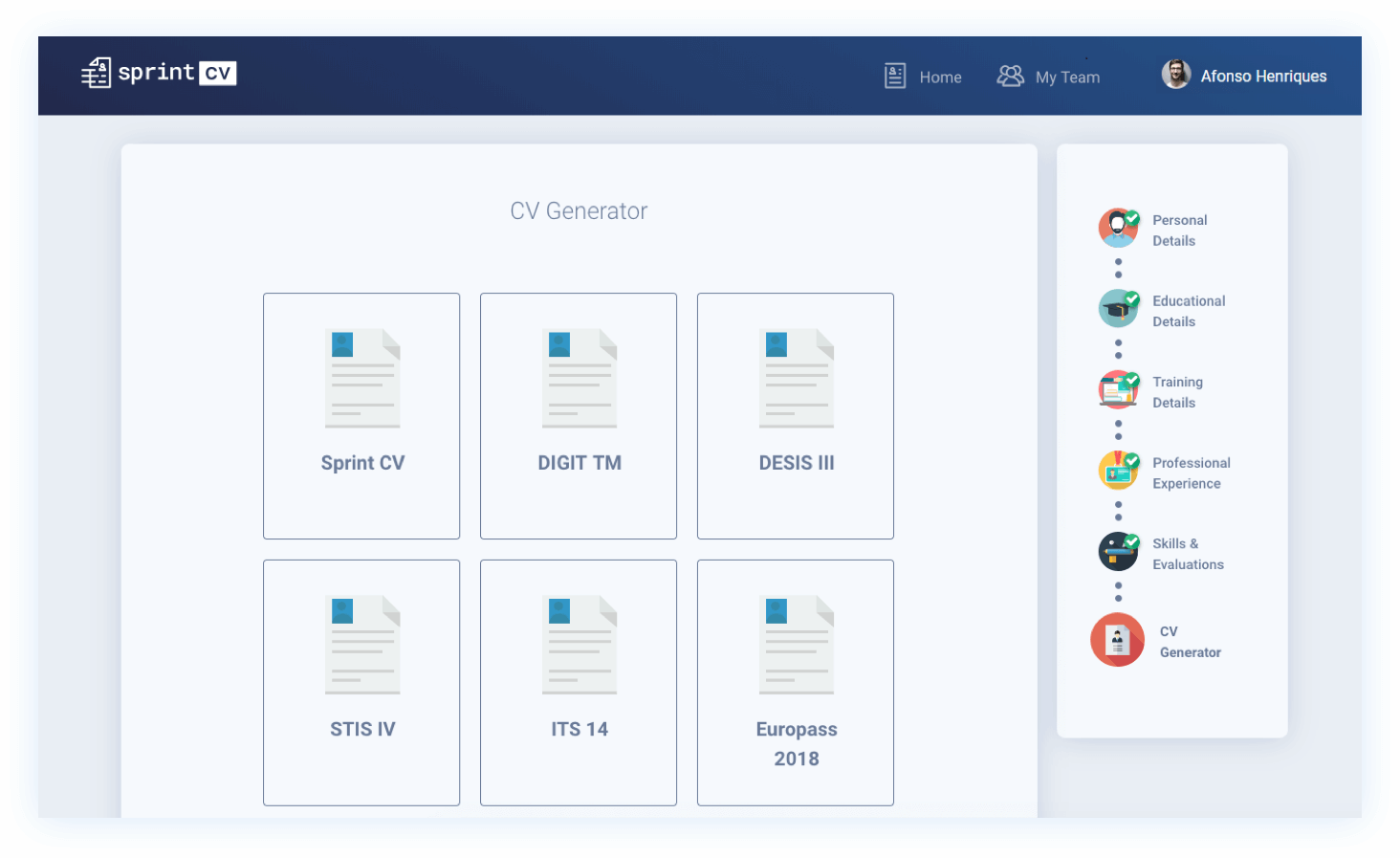 CV Generator
Congratulations, the IT consultant has unlocked the CV Generator, from now on, they can export their professional experience in any of the supported templates.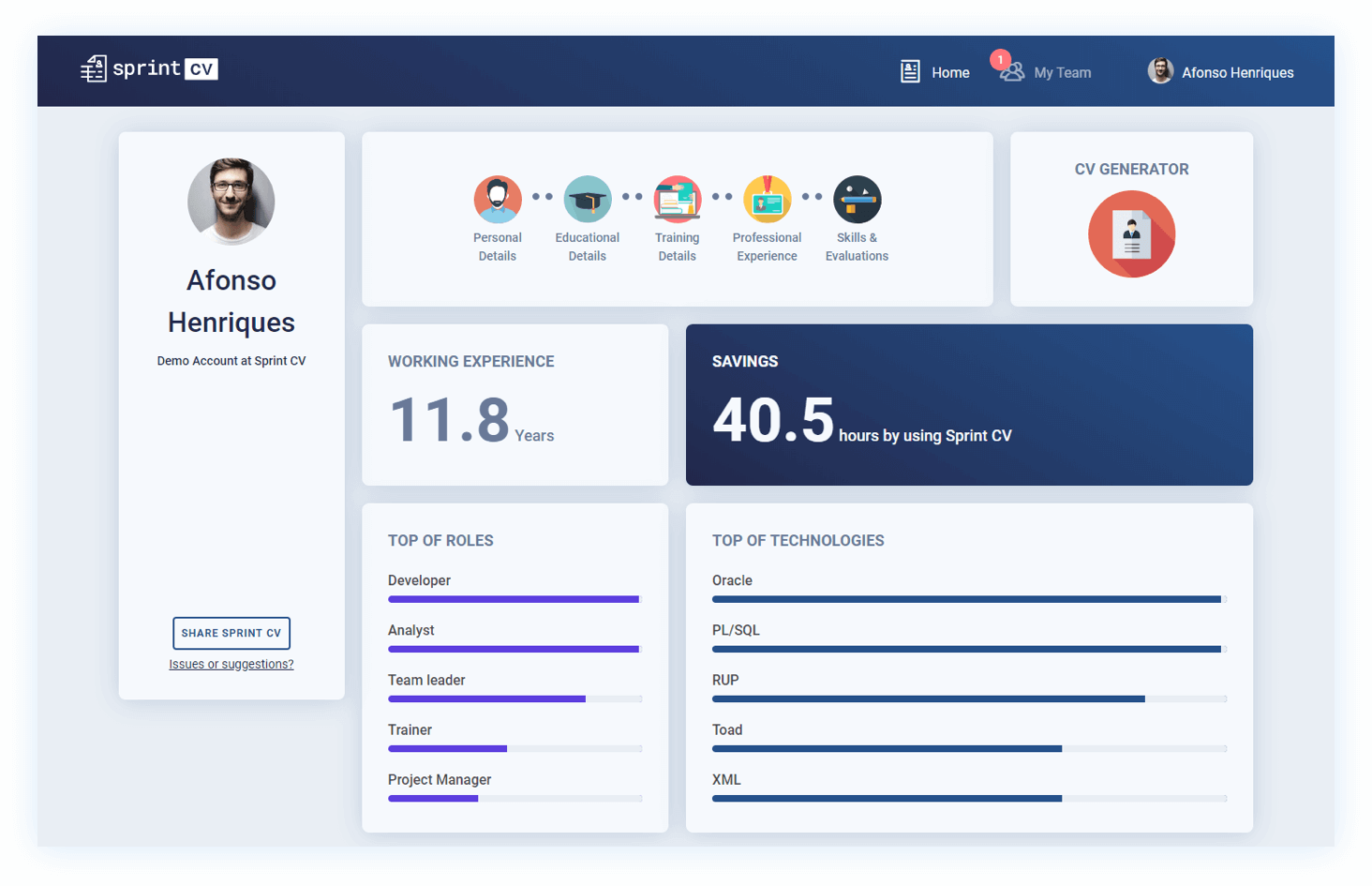 Home
Single dashboard where the IT consultant can access and edit all the stages of the wizard, where they can access to the CV generator and see some key indicators of their profile.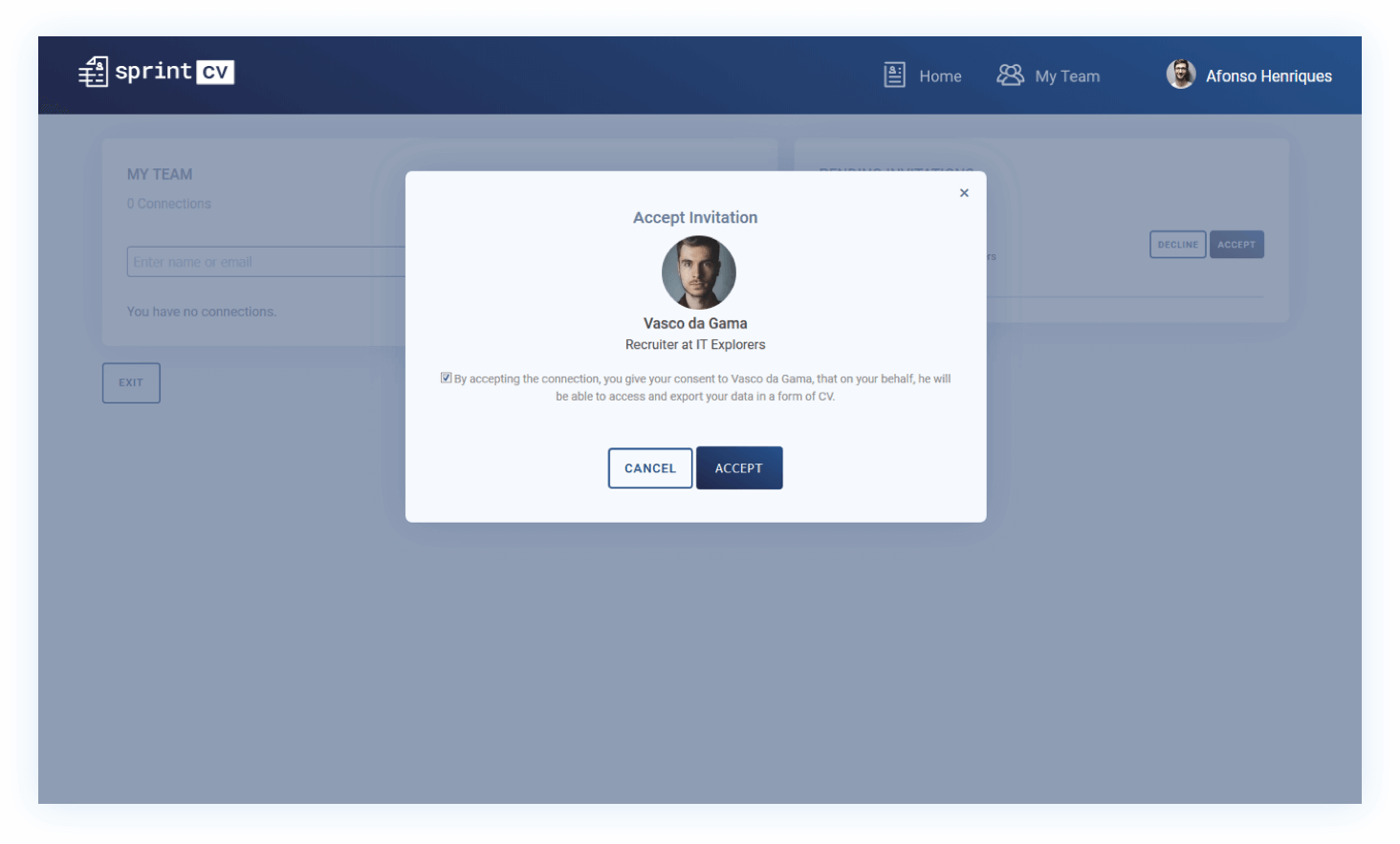 My team
The IT consultant can accept invitation from IT recruiters and be part of their team. For that the consultant must give consent to share data and accept their invitation.